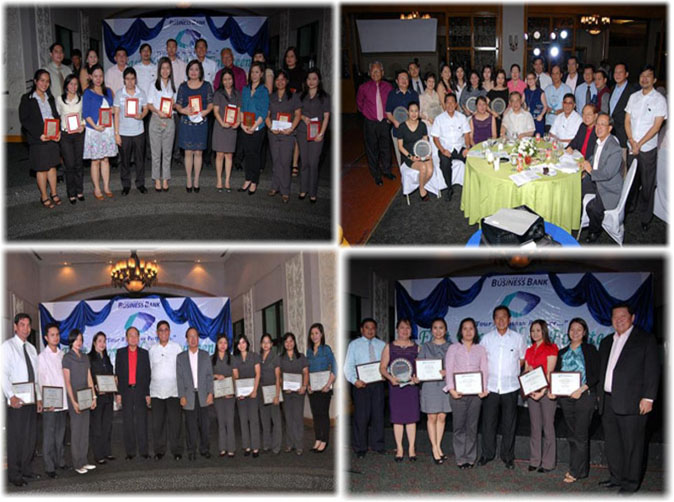 Philippine Business Bank celebrated its 14th Anniversary with the theme: "Fast Forward @ 14!" last February 15, 2011 at Wack Wack Golf and Country Club. An invocation led by VP Joselito D. Derivera started the program followed by the opening remarks from President & CEO Danilo A. Alcoseba and an inspirational message shared by Vice Chairman & COO Peter N. Yap.
Part of the program was the recognition of employees who have been consistently reporting earlier than the prescribed time for duty the whole year round dubbed as 2010 Straight Core Employees. Certificates and tokens were awarded to: Gener R. Antalan, Damica Rose S. Buan, Marissa A. Campos, Marizelle P. David, Jessie-Lou M. De Guzman, Hyna B. Dela Peña, Ma. Carmela P. Dichon, Daiseree C. Ditan, Elvira P. Duropan, Norlaine E. Ifurung, Robert V. Jimenez, Emma K. Lee, Jocelyn L. Lee, Jennylyn C. Solano, Dona L. Victorioso and Edmund Dante S. Vista.
PBB also acknowledged employees for their loyalty and service to the Bank for the past five years. Plaques and tokens were given to: Winnie M. Acbang, Ellen Faye C. Chua, Lemuel Michael C. Chua, Mer-An B. Cruz, Noel G. De Leon, Daiseree C. Ditan, Anthony F. Fajardo, Mylyn P. Fernandez, Merven R. Garcia, Aimee S. Jala, Maria Jiña Z. Jordan, Consorcia G. Lagunzad, Roberto V. Macatangay, Jenny V. Magbuhos, Cesar T. Manaig, Jr., Eleonor T. Marquez, Evelyn T. Pechay, Alice P. Rañola, Raquel C. Ruiz, Imelda D. Uy and Dona L. Victorioso.
Branch Banking Group likewise awarded PBB branches which have excelled in their respective CASA Targets. PBB branches which exceeded their CASA targets were: MOB, Edsa-Caloocan, Elcano, Banawe, Binondo Corporate Center, Makati, Novaliches, Mabini C-3, Cainta, Tarlac and Davao while Greenhills and Calamba precisely reached their CASA targets. Camarin was named as Rookie Branch of the Year and Cainta Branch was Best in Audit.
Likewise, PBB gave a special award to an employee/ or group who will perform his/her job well, leading to his/her outstanding contribution for the growth of the Bank. Treasury Services Group was the first receiver of the award for its outstanding contribution in meeting the over-all Bank's income target for the year 2010. Individual certificates were also given to the group's officers and staff namely: Joseph Edwin S. Cabalde, Liza Jane T. Yao, Cherylyn V. Ortega, Rosiedel S. Policarpio, Melanie P. Dogillo and Anna Marie Jonnicha C. Tangso.
PBBankers' talents were also heard and seen such as song numbers from Sergio C. Basco of PBB Calamba Branch and Ma. Llana Mae V. Angeles of AMG 1 and a dance number from the Binondo Branch talents. The most awaited message from the Chairman Emeritus Alfredo M. Yao brought delight to all the PBBankers as he acknowledged each and everyone's effort for bringing the PBB to its present state. A sumptuous dinner followed which was well-savored by the Board of Directors and officers and staff of PBB.