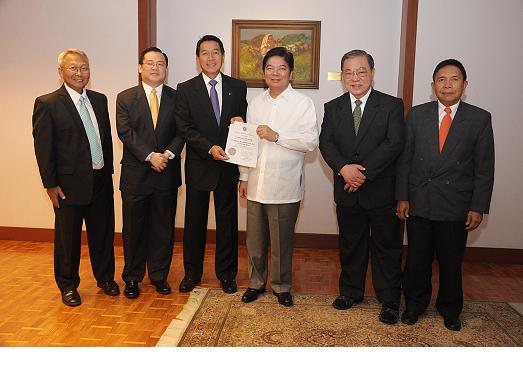 ( From L-R: Mr. Danilo A. Alcoseba - PBB President and CEO, Johnny Noe E. Ravalo - BSP Managing Director, Amb. Alfredo M. Yao – PBB Chairman, Gov. Amando M. Tetangco, Jr. – BSP Governor and Monetary Board Chairman, Mr. Francis T. Lee – PBB Vice-Chairman and Mr. Manuel C. Valdez – VP, PBB Head of International Banking Group.)
Philippine Business Bank (PBB), the banking arm of Zest-O Group of Companies owned and controlled by business tycoon Amb. Alfredo M. Yao became the first savings bank to be granted the authority to issue Foreign Letters of Credit (LC) and pay/accept/negotiate import/export drafts/bills of exchange by the Bangko Sentral ng Pilipinas (BSP). This authority complements the thrust of PBB to cater to the financial requirements of business ranging from medium to large category.
Philippine Business Bank has 49 branches operating nationwide situated in key cities and business centers. Another 6 branches will be opened within the quarter, and another 5 to 7 more are in the pipeline .
At the end of April 2010, PBB had total assets of P18.4 Billion while it recorded a net income of P122 million for the first four months of the current year.