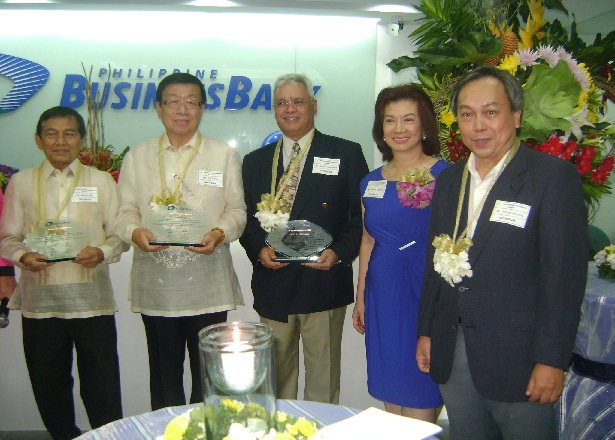 Distinguished sponsors during the inauguration of PBB Legaspi Village- Makati Branch: (L-R) Mr. Mario C. Cruz - President of Magallanes Management Corp., Mr. Jose S. Tan - COO of Shell Gasoline Stations in the areas of Cavite and Laguna, Mr. Jaime C. Fernandez - EVP / COO of Beneficial Life Insurance, Ms. Rosario G. Zapanta - Board of Director - Century Plaza Condominium; President of Tropical Condominium Corp. and Mr. Alfredo R. Bautista - Board of Director: Sunrise Terraces, Tropical Palms, Century Plaza Condominium, Mayfair Mansions
Philippine Business Bank (PBB) - the banking arm of the Yao Group of Companies, opened 2 branches last May 16, 2013, bringing the bank's network to 81 branches.
"We are making a difference by widening our presence across the country. We will continue to go where small and medium enterprises thrive. SMEs remain our focus as we increase our market base." said PBB President and Chief Executive Officer Rolando A. Avante.
PBB's expansion program is part of the P3.2 billion generated by its February initial public offering (IPO). It aims to have a total branch network of 100 this year.
The newly opened branches are in: Sunrise Terraces, 100 Perea Street, Legaspi Village, Barangay San Lorenzo, Makati City and in Maharlika Highway, Barangay San Fermin, Cauayan City, Isabela.