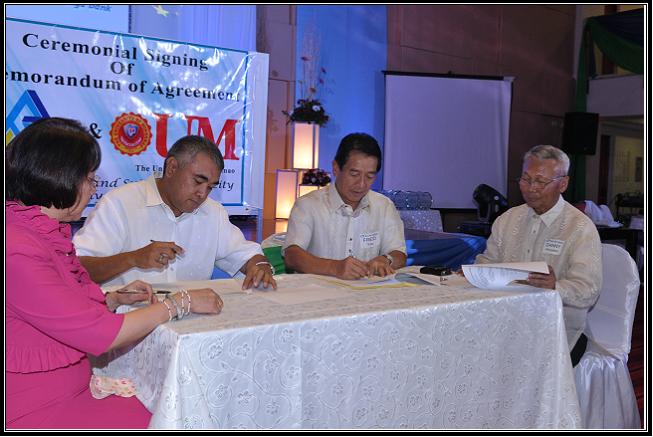 AMY Foundation, the social arm of Philippine Business Bank, recently added University of Mindanao (UM) in its roster of partner schools that would assist the Foundation in providing scholarship and support to less fortunate but deserving students to enable them to finish their college education.
Held in Davao City, the MOA was signed by AMY Foundation Chairman Alfredo M. Yao and UM President Dr. Guillermo P. Torres, and witnessed by PBB President & CEO Danilo A. Alcoseba and Ms. Maria Julieta R. Torres, VP for Institutional Affairs of UM. The ceremonial signing of the MOA marked the entry of the Foundation in Mindanao area. Thus, this would give chance to qualified students from the south to apply for scholarship under the agreement with UM.
Currently, AMY Foundation's partner schools with MOA include Polytechnic University of the Philippines (PUP), Philippine Normal University (PNU) and ICCT Colleges. For the SY 2010-2011, the Foundation supports 68 scholars enrolled in various courses. To date, 57 scholars already graduated under the Foundation Scholarship Program.